Meet some of our NMHU grads, and see what they are doing now!
What are your goals? Apply here!
Marissa Valencia earned her Bachelor of Science in Biology from New Mexico Highlands University in 2016, and recently returned to HU in pursuit of her teacher certification and Master's degree in Education. The proud daughter of Loretta Apodaca and stepfather Anthony Apodaca and the late Sydney Valencia, Marissa was born and raised in Bernalillo, NM, or as she affectionately calls it, "The Bosque, or the 'Farm of Bernalillo'."
During her four years at Bernalillo High School, Marissa played varsity soccer, basketball, and softball; obtained an EMT Certificate; and graduated in the top 25 of her class. Her dedication to the classroom and athletics not only earned her membership in the National Honor Society but also allowed her to pursue her college education on full scholarships. "In high school, I received a full athletic scholarship to play softball at Luna Community College in Las Vegas, NM, after which I received a full athletic scholarship to play softball at NMHU."
When asked what she enjoyed about her time at HU, Marissa replied, "One thing I enjoyed most was the community. Las Vegas is smaller than my hometown, so I really enjoyed the family atmosphere. Some professors, coaches, and student-athletes are locals, and HU athletics is always very involved in the community–especially youth community outreach, which is great."
She continued, "I also truly enjoyed the experience I had with the school of science and biology. All of the professors were incredible and passionate about teaching and learning. The program has a wide array of science subject matter such as fire sciences, animal sciences, plant sciences, chemistry, biomedical sciences, etc., which allows students to focus on their particular field of interest. I also had some research and internship opportunities in both the biomedical and the animal science fields. This prepared me for my future by giving me a greater understanding of both fields, which helped me narrow the focus of my science career."
Marissa also mentioned some fun activities she enjoyed. "NMHU has an outdoors activity program at the main campus which allows students to participate in outside activities (think snowboarding, hiking, camping, fishing, and skiing trips) at little to no cost. I thought that was one of the coolest benefits available to students."
When asked what advice she would give to new students, she replied, "The advice I give my students and student-athletes is that not every college is the right fit for you. You have to know what environment best suits your educational success." Marissa explained that many high school athletes have the Division I dream. However, not all of those athletes are able to excel in large Division I classrooms, and may fall behind. "NMHU provides a smaller and more intimate learning environment and is a Division II school. It is also fully accredited by the Higher Learning Commission which means that the education and credits you earn at NMHU are nationally recognized."
Marissa concluded by saying, "Although my time at NMHU felt very short, I enjoyed learning, representing the school as a student-athlete and making the friendships and connections that I value to this day."
Xochitl Campos Biggs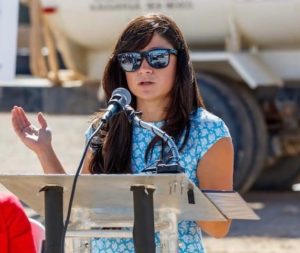 Xochitl Campos Biggs, after earning her undergraduate degree at UNM, earned her Master of Social Work (MSW) from NMHU-ABQ, Class of 2014.  She obtained her licensure (LMSW) in 2017.
When asked how NMHU prepares students for the future, Xochitl stated that in the social work program she was part of a relatively small student community. "It created an opportunity to build very strong relationships with my peers and teachers. Relationship building is key to social work but also to my current position."
Having previously worked for the City of Albuquerque, Xochitl is currently serving the people of New Mexico's Congressional District 3 as the District Director for Congresswoman Teresa Leger Fernandez.
"The people I went to school with now work with veterans, in schools, in correction facilities, with our immigrant communities, and with children." She continued, "It was important for me to have those connections when I was working as a social worker but even more so now. I can reach out to them to find out how federal policies are working – or not working – for them and the people they serve." Xochitl believes that it is those stories that mold legislation and create the most important change for our communities.
Xochitl is married to Matt, and they are enjoying watching their son, Henry, grow up. She said that she would always be grateful for her experience at NMHU.
When asked what advice she had for future NMHU students, Xochitl stated, "The most important thing I learned as a student of Social Work and something I carry with me everywhere I go is to lead with empathy always. It's the only way forward."

Terry Darnell
Terry Darnell graduated from New Mexico Highlands University in 1992 with a Bachelor of Arts in Physical Education and a minor in Education. He went on to earn his Master of Arts in Education Administration from the College of Santa Fe.
As a student athlete throughout his time at NMHU, Terry attended school under academic and athletic scholarships, which allowed him to earn his degree, play on the men's basketball team and fulfill his goals without future debt.
He said he enjoyed everything about his time at Highlands, and it was important that he attend a university that made him feel like part of a family. "I loved that NMHU is big enough to offer everything that I needed to succeed while still being small enough that I felt I knew everyone; the professors and staff knew me by name." He added, "As a proud alumni and former men's basketball player, I am appreciative of Highlands and all it has done for me in my career and life. Forever an NMHU Cowboy!"
Terry believes that his coaches and professors helped him make the decision to become an educator, and most importantly gave him the desire to dedicate his life to the education of future generations.
"Watching the impact that Coach Henry Sanchez, Coach Mike Kloeppel, and the School of Education faculty had on my life, and those of my fellow students, made me want to assist others in the same way. I see now that they were not only helping me be a successful student athlete but were also preparing me for my future as an educator, coach, and administrator."
In fact, his entire teaching, coaching and administration careers have been with Bernalillo Public Schools and is in his 30th year. Terry is currently the Deputy Superintendent of Operations and Outreach for Bernalillo Public Schools. However, in addition to teaching, he was the Head Spartan Boys' Basketball coach for 28 years, while serving as the Athletic Director for 18 of those years at Bernalillo High school, his alma mater.
Terry still resides in his hometown of Bernalillo, NM, where he grew up with parents, Charles and Pat Darnell, 1 sister and 5 brothers. He is the proud father of daughter, Brittany Toninni, and sons Ty Darnell, and Trey Darnell. Trey's wife, Isabel Villalobos-Darnell, is also a proud graduate of NMHU and former Cowgirls softball player.
Terry's advice to future NMHU students: "Enjoy the whole NMHU student-life experience and all it has to offer but, stay focused on your future career, goals and aspirations, and let NMHU prepare you to achieve them."

Christine White-Duran
Christine White-Duran, NMHU class of 1993, played on the Cowgirls basketball and volleyball teams, and earned her degree in Social Work with a Special Education minor.
"Being able to attend college and play sports at NMHU," she said, "Has prepared me to be responsible and develop the skills to balance my time and workload."
Christine, a native of Bernalillo, NM, told us that she loved her time at NMHU, and always felt as though the campus community was her home away from home. "I really enjoyed the small classes and professors willing to work with you one-on-one," she said. "I loved the relationships that were created because of the social atmosphere on campus…great opportunities and memories I will cherish forever."
She is currently utilizing the skills acquired at NMHU to teach special education, and coach volleyball and basketball at Bernalillo High School. Christine and Kevin Duran have been married for 23 years and have two amazing children, Rachel and Carlos.
When asked what advice she had for future NMHU students, Christine responded, "Always make the best of things and always look at experiences, good or bad, as learning opportunities."
Karly Atkinson
Karly Atkinson, a native of Espanola, NM graduated from UNM in 2016 with a bachelor's degree in business administration. For five years after graduation, she worked as a manager in the rental car industry but decided that she wanted more.
"When I was seeking to further my development personally and professionally," said Karly, "I realized I needed to set myself apart, pursuing my MBA at Highlands opened those doors for me." She graduated from HU in 2020 with an MBA and is currently employed at Nusenda Credit Union.
When asked how HU prepared her for the future, and why she chose HU, Karly replied, "HU prepared me by challenging my writing, my analytical, accounting, and software skills, along with other skills that are crucial in any career field." She continued, "I chose HU because at the time it was the only school that offered a master's degree completely online. What a great choice. I have made connections that will last me a lifetime with my classmates and instructors."
Karly's advice to future HU students: "Some advice I would give anyone pursuing their master's degree is you can do it even when it seems difficult. All of those late study nights, challenges, and stressful days will never exceed the amount of pride, joy, and confidence you will have upon degree completion."
Melissa "Missy" Hernandez
Melissa "Missy" Hernandez grew up the proud daughter of Mabel Vigil and the late Antonio Vigil, Jr. in El Pueblo, NM, a small community south of Las Vegas, NM. Missy is the mom of amazing Caleb and Micaela, the wife of Lawrence; and she's a sister, an auntie, and most recently, a great auntie.
After graduating from West Las Vegas High School, Missy chose NMHU and earned her B.A. in political science (law emphasis), with a minor in music. She studied and worked tirelessly to earn her undergraduate degrees while also playing in the NMHU jazz band and pep band, performing in show choir, and being an active member of HU's own Mariachi Vaqueros de La Sierra.
After her 2004 graduation, Missy taught social studies, Spanish, and of course, music for over ten years. She returned to HU to earn her M.A. in educational leadership in 2012 and is currently the Title III specialist for the NM Public Education Department.
"I knew NMHU was where I wanted to be because of Robert Lucero (director, Mariachi Vaqueros de la Sierra), and Dr. Abbas Manafy (dean, political science)," explained Missy. "These two men were the greatest mentors and made me feel as though I could accomplish anything because I knew since day one that I had their support, and they were determined to help me, and all students, succeed."
Missy emphasized that HU prepared her well for her future. "I went into the workforce feeling confident in my skills and abilities thanks to the education I received at NMHU," she said. "It was great to be in an environment where I was a person, and not a number. Small class sizes allowed for discussions and connecting with peers. The professors took their time to get to know their students and connected us to internships to provide real world experience." She added, "HU offered tutoring and a writing lab to help hone skills. The schedule was flexible, allowing me to stay on track to graduate within four years while raising two children."
When asked what she enjoyed most about NMHU, Missy replied, "I am grateful that I was able to bring my cultural identity to a university that celebrates diversity and pay for college by performing music. I met some amazing people in my classes and enjoyed my time as a senator in student senate. I will forever be grateful for the wonderful friendships made."
She continued, "Most importantly, I appreciate the lifelong friendships I made at HU and the continued support from my former Mariachi directors Robert Lucero, James Leger, and Nick Branchal as I became a music teacher. They taught so many students how to play mariachi music and instilled a sense of pride and the importance of family and community. I hope I made that kind of an impact as a teacher!"
Missy's advice to future NMHU students is, "Don't compete with anyone but yourself. Take the time to become the person you want to be. Get involved in as many activities as you can. Don't be afraid to talk to someone new, try new things, and get out of you comfort zone. Ask for help and enjoy every minute of learning!"
Emily Lucero 
Emily Lucero, an Albuquerque native, earned her Bachelor of Business Administration with a concentration in Marketing in May of 2021. She is enjoying her work at Sagebrush Church and her summer internship as a social media manager with Annapurna's WVC.
Emily is the youngest child in her family and is blessed with an older sister who is married, father in retirement, and mother working with Bernalillo Public Schools. She is further blessed to have married her best friend six months ago, while working on her degree, and is looking forward to a wonderful future.
"NMHU has allowed me to live a full life while earning a degree." said Emily. "I love the flexibility of courses [and] it is such a closed community of people who are ready to help. NMHU has given me a great network of colleagues to reach out to and to gain experience with; everyone needs a strong support system and I found that at NMHU."
When asked why she chose the B.B.A. in Marketing as her degree, and for any advice she would give future HU students, Emily replied, "I chose [marketing] because I want to help companies and organizations display their best qualities and features in order to grow.
"My advice to future HU students would be to listen to your heart and pursue it to your fullest. No one can do the work for you; they can help and support you, but your heart has to be in it."
Brenda Arthur
Brenda Arthur is from Kirtland, New Mexico and a member of the Navajo tribe. She has been married to her husband, Michael, for 31 years. Brenda has three children and is raising her niece and nephew. She is completing the final two courses for her B.A. in Early Childhood Multicultural Education (ECME) at NMHU. She plans on student teaching this fall and graduating in December. Brenda has worked with the Kirtland Early Childhood Center, as well as various educational entities. Brenda chose ECME due to her volunteer work at the schools that her children attended. In addition, she wants to "encourage young parents and families to help their children learn, grow and experience new things together. A majority of the students we serve are Native American and Hispanic. I love being able to teach numbers and songs in languages relevant to our culture. Sharing songs, stories and food are wonderful ways to bring us together as a school family."
Brenda enjoys NMHU because online courses, which were taken even before the COVID-19 pandemic, have "been very convenient for me, especially after working a full day at work and having a family to cook and care for in the evening." In addition, she states that "the advisors have been wonderful at helping me with my course selection and keeping me informed of upcoming events. They are very knowledgeable and encourage me to keep going. I have enjoyed the courses and the professors. They have given me all the necessary tools to do the best I can as an educator and professional."
When asked to give advice to current and future NMHU students, Brenda says, "Never stop learning. Keep communicating with the advisors and reach out if you are struggling. NMHU cares and wants to encourage you to strive to become the best you can. Learn to manage your time. Balancing school, work, and a family can be very stressful, but it can be done. Take time to de-stress, whether it is exercise, meditation, or taking a quick nap."
Brenda is a true inspiration, as she mentions that one of the obstacles she encountered during her educational journey was battling, and beating, cancer. This life-changing diagnosis and the battle that ensued prompted her to focus on her future. She states, "My husband was with me through it all and has always supported me."
We are proud of Brenda, and wish her the best as she aims to complete her B.A. in the fall of  2021!
Derick Gallegos 
Derick Gallegos is from Mora, N.M. and is a first-generation college student pursuing a bachelor of social work degree at NMHU Rio Rancho/Albuquerque. His wife, Jennifer Gallegos, is also an NMHU graduate with a degree in business administration with a concentration in accounting. The two have a 3-year-old son named Dominic. Derick is also a former U.S. Army Sergeant with 4.6 years of military experience. Derick chose NMHU to use his GI Bill® over any other university in the country because "my roots run deep in northern New Mexico. My father, David Gallegos, is retired from law enforcement, and my mother Melissa Gallegos is an educational assistant at Mora High School."
Derick particularly enjoys NMHU because "all age groups feel welcome to become part of the NMHU Rio Rancho family." In addition, "each class is 15-30 students, which is comparable to a high school classroom setting. NMHU is very accommodating to students with disabilities. I am living proof that with prayer, perseverance and dedication, anything is attainable. I will become a school counselor, and help as many students as I can to live out their full potential." Derick is planning on graduating from NMHU in May 2020 and recently submitted an application to the graduate Educational Counseling program at NMHU.
When asked to give future NMHU students advice, Derick says, "Every person has a unique skill set, and we are all human beings with unlimited potential. We all have something special within ourselves; but first, we need to believe in ourselves. If you're straight out of high school, NMHU has a nice campus in Las Vegas with dorms. If you are not straight out of high school, not to worry, most of us at campuses around the state are not 'traditional students' either. If you are reading this, I have one challenge for you. Test yourself, every day. Don't let school intimidate you, because you have it within you to do great things!"
Mark Patrick Loera
Mark Patrick Loera graduated from West Las Vegas High School in 1988 and currently lives in Rio Rancho, N.M. He is the youngest of four children who have all graduated from NM Highlands University. He received his B.A. degree in Human Performance and Sport from NMHU in 1992 and received his M.A. in Human Performance and Sport from NMHU in 1997. He is married to Sandra (Sanchez) Loera, also an NMHU alumna, and they have six amazing children: Devin, Reina, Marissa, Darren, Gregory Marc, and Alaina. Currently, Mark is a student support coordinator working with Native American students at Bernalillo High School. Prior to working at BHS, Mark served as the Native American student success coordinator for nine years at Pojoaque Valley Schools.
Reflecting on his time at NMHU, Mark states that having smaller class sizes provided the opportunity to work one-on-one with each of his professors. He says, "That made a huge difference in my academic performance and the willingness to attend classes." Further, Loera states, "Growing up in the community of Las Vegas, it was a no-brainer that I wanted to be a graduate of NMHU. Being part of the Purple & White Family was something I wanted and to this day, I'm very blessed to be part of the NMHU alumni. My professors really taught me how to study, motivate myself, break down situations, deal with the unexpected and more importantly, how to believe in myself as an individual student."
Some of the most memorable faculty include Dr. Jim Abreu, Dr. Joann Sprenger, Dr. Bernice Waggoner, Dr. Joe Shockely, Dr. Ron Maestas, and Dr. James Alarid. In addition, Loera fondly reminisces on his relationships with Coach Jim Marshall, the late legendary Coach Henry Sanchez, and Mr. Robert Evers.
When asked to provide NMHU students with advice, Loera states, "In these years of ever changing technology, getting a degree or certificate has been made easier. Trust in yourself to weigh out options, opportunities and give yourself a chance to be someone great!"