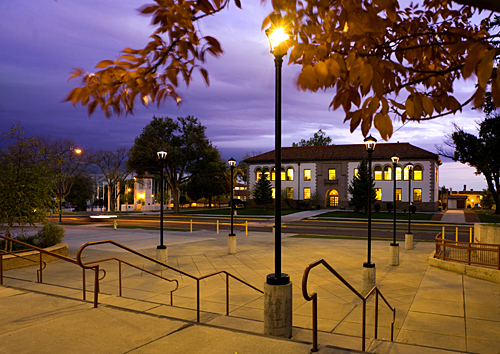 Nestled against the foothills of the Sangre de Cristo Mountains, a chain of the Southern Rockies, is the historic city of Las Vegas, New Mexico, the home to New Mexico Highlands University, a state-supported institution offering bachelor and master degrees in a variety of disciplines.
With the arrival of the Santa Fe Railroad in the 1870s, civic leaders decided that this booming region needed an institution of higher education, and in 1893, the Territorial Legislature established New Mexico Normal School.
The school opened in 1898 under the guidance of a young educator and anthropologist, Dr. Edgar Lee Hewett, who was to take a prominent place in New Mexico history as founder of both the Museum of New Mexico and the Institute of American Archaeology in Santa Fe. From a charter class of 92 students and six faculty members, the institution quickly progressed and, in 1899, the name was changed from New Mexico Normal at Las Vegas to New Mexico Normal University. Because of expansions in academic offerings, the school was referred to in the New England Journal of Education as "one of the best normal schools in the country."
By 1901, enrollment had surpassed 300. The growth of the institution increased with the admission of New Mexico into the Union in 1912, and in 1917 the school became a four-year teacher training college. Over the next decades accreditation was achieved, buildings were added and graduate work was introduced in several departments.
From its territorial beginnings, the school flourished with statehood and in 1941 was renamed New Mexico Highlands University, a name derived from is beautiful Northern New Mexico terrain.
Today, Highlands is known for its multiethnic student body, small classes, research activities, student and faculty achievements, and opportunities for students to combine study with real-world experience. Through distance education, Internet courses, and on-site faculty, Highlands also offers degree-completion and graduate programs in Rio Rancho, Santa Fe, Espanola, Farmington, Raton and Roswell.
Highlands' Presidents
Dr. Edgar Lee Hewett
1898-1903
Dr. E. J. Vert
1903-1906
Dr. W.E. Garrison
1907
Dr. B.S. Gowen
1908-1909
Dr. Frank H. Roberts
1910-1921
Jonathon H. Wagner
1922
Frank Carroon
1923-1930
Dr. H.C. Gossard
1931-1938
Edward Eyring
1939-1951
Dr. Thomas C. Donnelly
1952-1970
Dr. Charles J. Graham (interim)
May 19, 1970-July 30, 1970
Dr. Ralph Carlisle Smith
1970-1971
Dr. Frank Angel
1971-1975
Dr. John Aragon
1975-1985
Dr. Gilbert Sanchez
1985-1995
Selimo Rael
1995 – 2001
Dr. James Fries (interim)
2001 – June 2002
Dr. Sharon Caballero
2002-2004
Manny Aragon
2004 – June 2006
Dr. Manuel Pacheco (interim)
July 2006 – January 2007
Dr. James Fries
January 2007 – June 2015
Dr. Sam Minner
July 2015 – present