Undergraduate Programs| Graduate Programs | Apply | Accreditation | Forms | Catalog | Contact Us
---
---
Departments
Counseling| Educational Leadership | Teacher Education  | Staff

---
Geri Glover, Ph.D., Associate Professor, Department Chair, Counseling
Dr. Glover is an associate professor and chair of the Counseling Department.  She is a licensed clinical mental health counselor, registered play therapist – supervisor, and a licensed school counselor.  She has worked in the field of mental health for over 20 years.  Play therapy is her primary area of interest for research, training, and promotion.  She served on the national board of the Association for Play Therapy for 6 years and served on the state board for New Mexico Association for Play Therapy for 14 years. In addition to play therapy, she is also a strong advocate for diversity training and cultural awareness in clinical practice, especially with children and their families.  Her research and publications have been primarily in this area.
Phone: 505-454-3396
Email: gjglover@nmhu.edu
Curriculum Vitae
Kathryn Dziekan, Ph.D., Term Professor, Counseling
Dr. Dziekan is a clinical mental health counselor, and certified rehabilitation counselor.  She has over ten years of experience both as an assistant/associate professor and as a Rehabilitation Counselor in a variety of settings and locations across the United States. She specializes in psychiatric rehabilitation, addictions, learning disabilities, diversity, and distance education. Dr. Dziekan has recently served the community by being a psychologist and addiction counselor in clinics providing mental health therapy and addiction counseling. She developed four addiction courses for the Counseling Program at NMHU that are in full alliance with the requirements for licensure in New Mexico to assist graduate students in obtaining their license as the Licensed Alcohol and Drug Abuse Counselor (LADAC).
Email: kdziekan@nmhu.edu
Curriculum Vitae
Kevin Ensor, Ph.D., Assistant Professor, Counseling
Dr. Kevin Ensor  has more than 35 years of experience in rehabilitation counseling, evaluation, education and leadership. He earned his Ph.D. at the University of Maryland in developmental psychology, with a specialty in counseling disadvantaged students in alternative education programs. Prior to completing his doctorate, he earned two Master's degrees at Loyola University- one in counseling and one in educational administration.
In addition to his work in the Maryland public school system, Dr. Ensor has been an adjunct Professor at Loyola and Stevenson universities, and McDaniel College for over 15 years, and has taught courses in counselor education, psychology, and human service programs.  He is a 4-time Institute on Rehabilitation Issues national scholar and a published author.
Phone: 505-891-6903
Email: kensor@nmhu.edu
Chris Graham, Rh.D. Education, Term Professor of Rehabilitation Counseling
Non-Resident Faculty
Email: csgraham@nmhu.edu
Anna M. Koch, Ph.D., Assistant Professor, Counseling
Dr. Koch, is a licensed professional clinical counselor (LPCC), certified rehabilitation counselor (CRC), and a certified clinical mental health counselor (CCMHC).  She has earned two doctoral degrees, one in Rehabilitation Counselor Education from The University of Iowa and the second from Texas Tech University in Counselor Education and Supervision. Her training, experience and research/publications has focused on addiction, co-occurring disorders, brain injury, group counseling and online counseling.  She is also interested in rehabilitation counselor education program accreditation. She has taught master's level counseling/rehabilitation counseling students since 2003 and has also worked as a counselor in psychiatric rehabilitation, private practice, not-for profit, and for the U.S. Department of Veterans Affairs.
Phone: 505-891-6941
Email: amkoch@nmhu.edu
Douglas Main, Ph.D., Professor, Counseling
Dr. Main is an associate professor, a Certified Rehabilitation Counselor (CRC), and a Licensed Professional Clinical Counselor (LPCC).  He has over ten years of experience as a State Rehabilitation Counselor, including specialized work in school-to-work transition, vocational evaluation, and brain injury rehabilitation. Additionally, Dr. Main worked for a year developing a research and intervention protocol for veterans with disabilities, and has pursued specialized training and experience in college and university counseling and crisis intervention. Most recent publications for Dr. Main include research on hybrid distance education models that best serve rural communities. He has published and presented most extensively over the past decade on preventing burnout and compassion fatigue in counseling.
Phone: 505-454-3519
Email: dmmain@nmhu.edu
Curriculum Vitae
Michael Morad-McCoy, PhD., FT Term Professor, Counseling
Mr. Morad-Mccoy earned a Master's degree in counseling from the University of New Mexico, and is currently completing his PhD in Counselor Education from the same university. He is an independently licensed and clinical counselor with work focusing on grief and loss, and couples. His research and teaching interests include Death, Dying, and Bereavement; Sexuality in Counseling; and Common Factors in Counseling. He earned a Bachelor's degree in American Studies from Antioch College and his work as a counselor and an educator has been motivated by Horace Mann's charge all Antiochians to "be ashamed to die until you have won some victory for humanity."
Phone: 505-891-6928
Email: mmoradmccoy@nmhu.edu
Curriculum Vitae
Lori Rudolph, Ph.D., Associate Professor, Counseling
Dr. Rudolph is an associate professor, clinical mental health counselor, a Fulbright scholar and former Palestinian American Research Center (PARC) fellow. Her current research focus is on displaced populations and trauma coping in war-torn countries.  Her teaching interests include trauma and crisis intervention, theories of counseling, family and multicultural counseling.
Phone: 505-891-6920
Email: lhrudolph@nmhu.edu
Curriculum Vitae
---
Curriculum and Instruction Department
Ann Wolf, Ed.D., Assistant Professor of Reading, Department Chair

Ann Wolf is an Assistant Professor of Curriculum and Instruction at New Mexico Highlands University. She is the past president of the College Reading and Learning Association (CRLA) and a reviewer for the Journal of College Reading and Learning and the Journal of College Literacy and Learning. Ann has been an Associate Professor in higher education since 2004 and has published articles in many peer-reviewed professional journals. She was awarded the Robert Griffin Award for Long and Outstanding Service to the College Reading and Learning Association in 2013.
Ann has a doctorate in Reading from the University of Northern Colorado and a master's degree in Reading from Syracuse University. She has taught college reading, developmental reading, and college success courses for over twenty-five years at both two-year and four-year colleges. She has been a presenter at state, regional, and national conferences on various reading/literacy topics.
Phone: 505-891-6923
Email: aawolf@nmhu.edu
Curriculum Vitae
Seonsook Park, PhD., Associate Professor

Dr. Seonsook Park is Associate Professor of Curriculum and Instruction at New Mexico Highlands University where she teaches graduate courses in Literacy and Reading Education, Bilingual, and TESOL. She received her Ph.D. in Language, Literacy, and Sociocultural Studies from the University of New Mexico. Her research focuses on sociocultural paradigm in a range of settings including second language literacy, identity, English learners, and professional development.
Phone: 505-891-6924
Email: parks@nmhu.edu
Curriculum Vitae
Ludmila Layne, PhD., FT Term Professor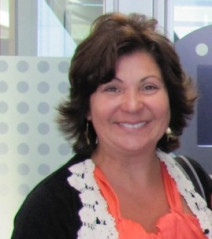 Dr. Ludmila Layne has a Ph.D. in Psychology from Central University of Venezuela and a Ph.D. in Organizational Learning and Instructional Technologies from the University of New Mexico.  She has over 20 years of teaching and research experience in higher education combined with more than 17 years in the field of curriculum design for education, research, instructional design, and evaluation. Dr. Layne has designed and taught numerous online and hybrid courses and has wide experience integrating technology to enhance instruction. Through her research, she has explored how people learn in online learning environments and contributed to the development of the instructional design model to develop online wisdom communities (WisCom). A primary product of this effort is the book: Culturally Inclusive Instructional Design: A Framework & Guide to Building Online Wisdom Communities, to be published this year. Her research focuses on designing diverse online communities and collaborative problem-solving in online learning environments.  When asked why she chose Highlands, she replied, "The opportunity to actively participate in the areas to which I have devoted the majority of my professional career. I see in Highlands the opportunity to continue being part of academia and contributing my knowledge in favor of New Mexican students. I am passionate about serving my community and finding ways to promote a culturally inclusive educational system and help students succeed at all professional levels."
Phone: 505-891-6902
Email: llayne@nmhu.edu
---
Yvonne Moreno, PhD., Assistant Professor, Department Chair
Dr. Yvonne Moreno is an Assistant Professor in the Department of Special Education at New Mexico Highlands University. She believes that all individuals regardless of their exceptionalities must have a right to live full independent lives and to be contributing members of society. Dr. Moreno holds a Master of Arts Degree in Education and a Doctor of Philosophy Degree in Special Education. She has extensive experience in the field of special education working in both public schools and community- based settings. She teaches courses for the department in the areas of low incidence disabilities, autism, classroom management, assessment, and reading Instruction in special education. In her most current research Dr. Moreno examined the transition practices that promote effective transitions for students with disabilities and explored the impact that special education practitioner's disability model has on their educational practice.
Phone: 505-454-3535
Email: yvonnemoreno@nmhu.edu
Michael Immerman, PhD., Associate Professor (General and Secondary Education)
Teaching – Michael is involved in the undergraduate teacher preparation program ranging from the Introduction to Teaching offerings to Evaluation & Assessment, and Theories of Secondary Education.
Research – Michael is involved in creating a model of pre service teaching apprehensions and potential areas of concern pre and post the student teaching experience.
Service – Michael currently is a Board Member for the Las Vegas Rio Gallinas Charter School.  He is active on several university committees including: (a) The Center for Teaching Excellence Board, and (b) The Faculty Senate Budget Committee.
Phone: 505-454-3548
Email: immerman@nmhu.edu
Curriculum Vitae
Taik Kim, PhD., Associate Professor
Phone: 505-454-3538
Email: taikkim@nmhu.edu
Shirley A. Meckes, PhD., Associate Professor
Dr. Meckes owned and operated a pre-school (including a certified Kindergarten) for over 2 decades in the state of RI. She also conducted extensive research on the effect of using the computer as a learning tool in a Kindergarten classroom and is currently in the progress of writing a paper on the "Collapse of Cursive Writing".
Phone: 505-454-3514
Email: smeckes@nmhu.edu
Curriculum Vitae
Sarah Santillanes, PhD., Assistant Professor
Dr. Sarah Leah Santillanes has been an educator for over 20 years.  She is a life-long resident of Albuquerque, New Mexico, where she grew up in the South Valley.  Previously she was an online instructor with the University of North Carolina-Wilmington and also taught part-time at Central New Mexico Community College.  As an academic, she has taught over 20 college courses in the areas of ethnic minority education, Culturally Relevant Pedagogy, effective ELL teaching practices, and progressive at-risk literacy methods.  She has several publications centering on race and media and has presented at over 20 conferences.  Her areas of interest include:  dual-enrollment schooling and the non-traditional learner, student marginalization, and reality pedagogy.
Phone: 505-891-6935
Email:  slsantillanes@nmhu.edu
German Moreno, PhD., FT Visiting Associate Professor
Dr. German Moreno has over 20 years of experience working at the public schools and in post-secondary education. For the last 13 years he has been teaching mathematics and working to improve student outcomes at Dona Ana Community College. Dr. Moreno has a Master of Arts in Teaching Mathematics and a Ph.D. in Curriculum and Instruction. His research interests include critical mathematics education, participatory action research, student identities, and secondary and adult education. He looks forward to collaborating with teachers to address the challenges they face in the classroom. Ultimately his focus is on helping people from marginalized communities use their knowledge to improve themselves and their communities.
Phone: 505-454-3521
Email:  gamoreno@nmhu.edu
Paul James (PJ) Sedillo, PhD., Assistant Professor
Dr. Sedillo is a native from Albuquerque, received his BA degree in Elementary Education from Highlands University, Las Vegas NM., Masters in Special Education from UNM (University of New Mexico), and Doctorate from UNM in Special Education with an emphasis on counseling and the gifted and talented. Dr. PJ Sedillo's dissertation entitled A Retrospective Study of Gay Gifted, Young Adult Males' Perceptions of Giftedness and Suicide is a qualitative, retrospective study that investigated suicidal ideation among 32 young adult men.  Participants were asked to report their experiences as adolescents. The primary focus of the study was to discover how gay gifted adolescents dealt with issues of suicide and suicidal ideation.  Based on the study's outcome, a theory of suicidal ideation was proposed, and an assessment was designed for future studies. He taught within the Albuquerque Public Schools (APS) for the past twenty-four years as a general/special and gifted education teacher.  He was also a Resource Teacher assisting newly hired teachers of the Gifted to APS.  Currently, Dr. PJ Sedillo is an assistant professor at New Mexico Highlands University in the special education/gifted department.
Phone: 505-891-6907
Email: pjsedillo@nmhu.edu
Curriculum Vitae
Melissa Phillips, PhD., Assistant Professor
Phone: 505-454-3352
Email: melissaphillips@nmhu.edu
Carl Valdez, PhD., Term Professor
Dr. Valdez returns as a Highlands alumni to the Special Education program in the School of Education. His PhD in educational psychology with a school psychology specialization is from The University of Arizona.   His faculty experience includes online graduate and undergraduate teaching  in educational and developmental psychology, curriculum and instruction along with special education departments.  His expertise is found in assessment, behavioral management, teacher consultation, cognitive-behavioral interventions, research mentoring, special education law and procedures.  He considers  academic engagement, constructivism, ethnic identity development, critical race theory, cultural relevancy, and emic approaches as required to support learners and communities.  He continues to conduct research on the disproportionate representation of racial and ethnic groups in special education along with the use of standardized testing  to determine special education students graduation pathways.
Phone: 505-891-6935
Email: cmvaldez@nmhu.edu
Lorraine Martinez, MA, Term Professor/Alternative Teacher Certification Program Coordinator
Lorraine Martinez has been an educator for the past 45 years in the secondary and post-secondary setting. A life-long resident of Las Vegas, New Mexico, she completed a Bachelor of Arts Degree in Elementary Education with a minor in Spanish. A Master of Arts Degree in Bilingual Education and a Master of Arts Degree in Educational Leadership Administration, all from New Mexico Highlands University. She has been an adjunct faculty member for the School of Education for the past 19 years teaching Early Childhood Multicultural Education, Teacher Education, and Educational Administration classes. Mrs. Martinez retired in 2003 from the Las Vegas City School District as a school Principal and Bilingual Director of 19 years and a teacher for 15 years. As a school administrator, she implemented the Dual Language Immersion Program at an elementary school, which has proven to be successful at developing fluency in both English and Spanish languages for the past 21 years. In 2004, she taught at Luna Community College in the Education Department for 3 years and then directed the Title V Federal Program for 10 years. As a team member and chair for the AdvancED accreditation agency, she has served on numerous school district accreditations throughout New Mexico. With the advent of interest in the Early Childhood Multicultural Education programs in New Mexico, I would like to promote Early Childhood at New Mexico Highlands University. To that end, I will be directing the Alternative Teacher Certification Program to promote the inclusion of diverse experiences into the educational realm.
Phone: 505-454-3509
Email: lmmartinez@nmhu.edu
---
Educational Leadership Department
Sheree Jederberg, Ed.D., Associate Professor, Department Chair
Dr. Sheree Jederberg holds an Ed.D. in Urban Education Leadership & Policy from the University of Southern California (USC), She also holds an MA in Education Administration and Leadership from San Diego State University,  as well as a B.A. in English/Creative Writing from San Diego State University, and a B.S. in Computer Science from the University of California San Diego, Dr. Jederberg has over 29 years in education, having held Executive Leadership positions in K-12 education, mostly in large urban districts as a Deputy Superintendent, Assistant Superintendent, Executive Director of Secondary Education, and high school principal.  She has taught Doctorate, Master, and Undergraduate University level courses in Educational Leadership & Policy, Curriculum & Instruction, Social Education, Teacher Education, and Secondary Education to name a few.  She has recently worked as Department Chair and Associate Professor in Education Leadership and Policy in Abu Dhabi, United Arab Emirates, where she worked with the Accreditation of their Doctorate and Master courses, taught Graduate courses to the Emirate locals, and provided training at Sorbonne University in Abu Dhabi, as well as training with emerging leaders from Azerbaijan, in the Post Soviet Union. Her areas of research are in the areas of Collective Creative Leadership –from district level to school to teacher level leadership, Professional Learning Communities, Diversity and Equity, Innovation, and using Data to drive change and reform.
Phone: 505-891-6917
Email:  shereejederberg@nmhu.edu
Robert Karaba, PhD., Associate Professor
Dr. Robert Karaba seeks to foster systematic self-reflection in educational leaders for the purpose of social reconstruction toward democracy. After earning a Master's degree in Philosophy from Colorado State University, he acquired his Doctorate in Educational Leadership from Miami University, Oxford, Ohio.  Since then he has been the founding director of a Native American charter school, and has taught cultural studies and educational leadership for over 10 years.  He is currently an Assistant Professor in Educational Leadership at New Mexico Highlands University and Director of Communications for the John Dewey Society.
Phone: 505-891-6901
Email: rkaraba@nmhu.edu
Curriculum Vitae
Rodney Rock, PhD., Term Professor
Phone: 505-454-3383
Email:  rrock@nmhu.edu
---
School of Education Staff
Katherine King AAS, AA, Administrative Assistant Graduate Admissions
Phone: 505-454-3536
Room: STEC-114
Email: kmking@nmhu.edu
Geraldine Baca, MA, Administrative Assistant to the Dean
Phone: 505-454-3357
Room: STEC-114A
Email: baca_geri@nmhu.edu
Katy Korzekwa, MS, Assessment and Accreditation Director
Phone: 505-454-3381
Email: kkorzekwa@nmhu.edu
Rio Rancho Office
Ronnette Ortiz, Administrative Assistant, Field Experiences Student Specialist
Phone: 505-891-6932
Room: RIO-208
Email: raortiz@nmhu.edu
Office of Field Experiences

Janis Taback-Keene, Coordinator of Field Experiences, Rio Rancho
Phone: 505-891-6927
Room: RIO-206
Email: jkeene@nmhu.edu
Stephen Weatherburn, Director of Field Experiences and SOE Admissions
Phone: 505-454-3108
Room: STEC 109
Email: sjweatherburn@nmhu.edu
Julia Andrada, Administrative Assisstant
Phone: 505-454-3382
Room: STEC 108
Email: jaandrada@nmhu.edu